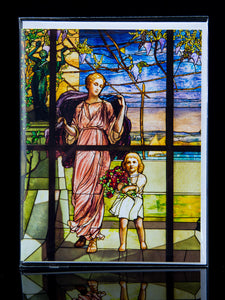 This glossy notecard with white paper envelope features Tiffany's Woman with Daughter window, currently on display at the Halim Time & Glass Museum.
In this window, the Tiffany firm exemplified its ability to paint with glass by using features of the glass itself such as color, texture, and opacity to create pictures. Tiffany experimented with glass to achieve a more varied palette with richer hues, shown by the beautiful coloration and movement in the woman's clothing.
Halim Museum original.
Image: Woman with Daughter (1900), Tiffany Glass and Decorative Company.