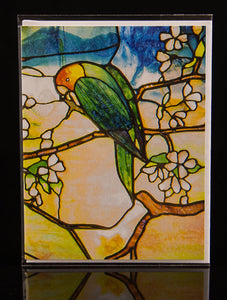 This postcard features Tiffany's Parrots window, currently on display at the Halim Time & Glass Museum.
The panels in the window feature brightly plumed birds perched on flowering branches, with Tiffany's signature use of brilliant color and texture. Tiffany frequently featured flamingos, parrots, peacocks, and parakeets in floral windows commissioned for residences.
Image: Parrots (1893), Tiffany Glass and Decorating Company.
Halim Time & Glass Museum original