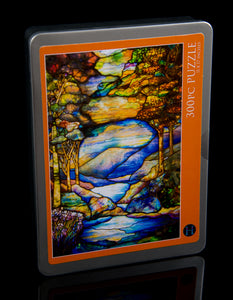 This puzzle features the River and Valley of Life window, currently on display in our Treasures of Tiffany gallery. Share your experience at the Halim Time & Glass Museum by purchasing an item featuring one of our original pieces!
Tiffany used flowers, trees, water and mountains in varying colors and textures of glass to depict the sublime beauty of nature. This lush scene is viewed through a canopy of birch trees with irises in the foreground, majestic mountains in the background, and a peaceful river central to the composition of the window. 
Image: River and Valley of Life, leaded glass window with copper foil construction, Tiffany Glass & Decorating Co. circa 1910. 
Halim Time & Glass Museum original.