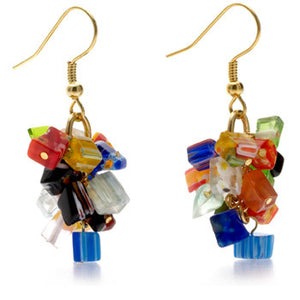 Mosaic glass beads are believed to have originated in Western Asia. The style became popular in Egypt, Syria and Rome, and had a renaissance in 16th century Venice where the glass became known as Millefiori (a thousand flowers).
These beads were artistically created by laying colored glass rods next to each other with the middle section often creating a flower-like pattern. These rods were then heated so they could be stretched and fused together. The bar was sliced into beads which were pierced for jewelry.

Materials: Glass chips, brass with gold finish
Length: 1.75"