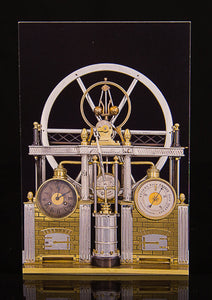 This postcard features Automaton Clock in the Form of a Steam Engine, currently on display in our Clocks of the World gallery. Share your experience at the Halim Time & Glass Museum by purchasing an item featuring one of our original pieces!
This industrial-age clock features a tri-tone bronze and rouge marble case which form a replica steam pump engine, complete with pistons in the center driven by a large flywheel and governor assembly. The body of the case has an incised brick design with a barometer on the left and a clock face on the right. The brass eight-day spring-driven movement strikes on a coiled gong. (France, c. 1890)
Halim Time & Glass Museum original.