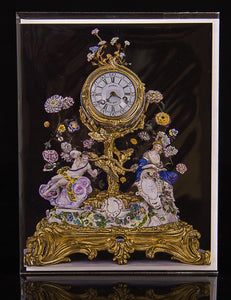 This notecard features the Athena and Hermes clock currently on display in our Clocks of the World exhibit. 
This clock case exemplifies the collaboration of several artistic disciplines and workshops. The exquisite figures of Athena and Hermes were likely made by the renowned modeler of the Meissen Porcelain Manufactory, Johann Joachim Kandler. The flowers--astounding in their delicate realism--likely came from the French Vincennes Manufactory that specialized in this form. 
Image: Athena and Hermes porcelain clock, France, (c. 1750). Julien Le Roy, clockmaker; Johann Kandler, modeler (attrib.) of Meissen Porcelain Manufactory
Halim Time & Glass Museum original.