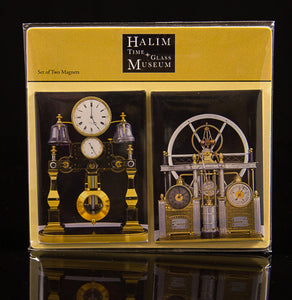 This set of two magnets features images of the Grand Sonnerie skeleton clock and the Automaton Clock in the Form of a Steam Engine, both currently on display in our Clocks of the World exhibit.
The technically sophisticated skeleton clock features hour and half-hour striking on three unusual glass bells. The enamel dial is signed C. Detouche A Paris, with a subsidiary seconds dial. Regulator features include the gridiron pendulum and temperature-compensation visible through the bob and fine beat adjustment. Detouche was an ingenious maker during the Restoration period, with Napoleon notably making him the Furnisher to the Emperor. Detouche took an early interest in electrical horology and patented an electro-magnetic clock in 1851.
The industrial-age clock features a tri-tone bronze and rouge marble case which form a replica steam pump engine, complete with pistons in the center driven by a large flywheel and governor assembly. The body of the case has an incised brick design with a barometer on the left and a clock face on the right. The brass eight-day spring-driven movement strikes on a coiled gong. (France, c. 1890)
Halim Time & Glass Museum original.